2019 Queensland Major Projects Pipeline Report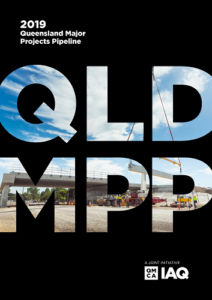 The Queensland Major Projects Pipeline Report is the definitive guide to the major construction works that will define the success of Queensland's Contracting Sector.
Authored by BIS Oxford Economics, Queensland Major Contractors Association and Infrastructure Association of Queensland, the report is a mainstay of government policy, media commentary and influence, as we actively pursue and deliver the transformational projects that employ our people, connect our communities and drive the long term economic and social wellbeing of the state.
CLICK HERE TO DOWNLOAD YOUR COPY OF THE REPORT
QMCA and IAQ are thankful to following partners. Without the support of Accura Consulting, Cbus, Construction Skills Queensland, Dial Before You Dig, Pumps United, BMD Group, Economx, Inland Rail, PlanGrid and RDA Darling Downs ans South West production of the 2019 QMPPR Report would simply not have been possible.
INDUSTRY REPORT SHOWS THE NEED TO FAST TRACK PROJECTS
Two of Queensland's leading industry bodies will today release their key annual report, while calling for more Government funded projects to be made 'shovel ready' as a way to avoid large peak to trough cycles that damage the sector.
Events
Townsville – Due to the recent flooding in Townsville, the event will be scheduled for later in the year.
---
Collaboration Partners
QMCA and IAQ are thankful to the following Collaboration Partners. Without their support and commitment, producing the 2019 QMPPR Report would simply not be possible.
---
---
---
---
---
---
Regional Supporters
QMCA and IAQ are committed to regional Queensland and ensuring that our state has a pipeline of infrastructure that will help connect and service each corner of the state. We are thankful to our Regional Supporters without the support of whom we could not take our message across the state.
---
---
---
---
---
Toowoomba Event Images
Check out our gallery from the Toowoomba launch, please feel free to save and share photos with your networks.