2019 Queensland Major Projects Pipeline Report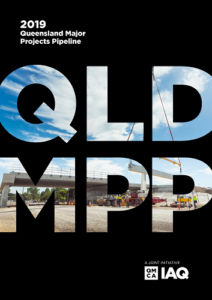 The Queensland Major Projects Pipeline Report is the definitive guide to the major construction works that will define the success of Queensland's Contracting Sector.
Authored by BIS Oxford Economics, Queensland Major Contractors Association and Infrastructure Association of Queensland, the report is a mainstay of government policy, media commentary and influence, as we actively pursue and deliver the transformational projects that employ our people, connect our communities and drive the long term economic and social wellbeing of the state.
Launched via a gala event in Brisbane and regionally in Townsville and Toowoomba, the 2019 Queensland Major Projects Report will be the essential guide to our industry and the projects that Queensland needs for long term financial and social prosperity.
QMCA and IAQ are thankful to following partners. Without the support of Accura Consulting, Cbus, Construction Skills Queensland, Dial Before You Dig, Pumps United, BMD Group, Economx, Inland Rail, PlanGrid and RDA Darling Downs ans South West production of the 2019 QMPPR Report would simply not have been possible.
Events
Tickets are selling fast to our gala events, please follow the links to book your place:
Brisbane – 7:00am for 7.30am to 9:15am, 13 March 2019, BCEC, The Plaza Terrace Room

Toowoomba – 7:00am for 7.30am to 9:15am, 2 April 2019, The Annex, Toowoomba City Hall

Townsville – Due to the recent flooding in Townsville, the event will be scheduled for later in the year.
---
Collaboration Partners
QMCA and IAQ are thankful to the following Collaboration Partners. Without their support and commitment, producing the 2019 QMPPR Report would simply not be possible.
---
---
---
---
---
---
Regional Supporters
QMCA and IAQ are committed to regional Queensland and ensuring that our state has a pipeline of infrastructure that will help connect and service each corner of the state. We are thankful to our Regional Supporters without the support of whom we could not take our message across the state.
---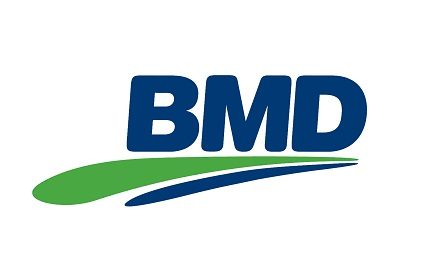 BMD Group
Regional Supporter
BMD has grown from a small family owned company to become one of Australia's largest privately-owned engineering design, construction and land development contractors.
Originally commencing operations in Queensland in 1979, BMD has a 40 year history of delivering infrastructure which has changed the shape of Australia and is renowned for a relationship based approach to contracting founded on certainty, collaboration and performance.
In Queensland BMD is renowned for projects including the $1.5 billion Legacy Way tunnel, Ipswich Motorway Upgrade as the SAFELink Alliance, Brisbane's new parallel runway at Brisbane Airport, Robinson Road Open Level Crossing Replacement in Brisbane's north, Hay Point Expansion in Mackay and Haughton River Floodplain Upgrade in Townsville.
Unique to BMD's group of companies is the capacity to deliver integrated services for whole-of-life project delivery as the largest urban development contractor in Australia, offering subdivisional and allied services.
Visit BMD's Website
---
EconomX
Regional Supporter
We believe that great regional content practices, executed by smart and forward-thinking projects, can drive commercial benefits and change communities from the inside out as a force for positive economic and social change.
EconomX was created as a technology-based solution to implement contemporary and collaborative regional content practices. The platform helps projects align with regional content best-practice while complying with Australian Industry Participation Plans and the Strong and Sustainable Resource Communities Act 2017.
Visit EconomX's Website
---

PlanGrid
Regional Supporter
PlanGrid is the leader in construction productivity software. Used on more than one million projects in 84 countries, PlanGrid's value extends over numerous phases of construction, building a massive and accurate history of every jobsite through everyday use that creates a data-rich record set at turnover that is essential to long-term operations.
PlanGrid is the first construction productivity software that allows contractors and owners in commercial, heavy civil and other industries to collaborate easily from their mobile devices and desktop, managing drawings, specs, photos, RFIs, field reports and defect lists.
For more information and a free trial, visit PlanGrid's Website or email apac@plangrid.com
PlanGrid, recently acquired by Autodesk.
---
Inland Rail
Regional Supporter - Toowoomba
The Australian Government has committed $9.3 billion and selected Australian Rail Track Corporation (ARTC) to deliver the once-in-a-generation 1,700km Melbourne to Brisbane Inland Rail Programme in partnership with the private sector.
Divided into 13 individual projects, it's the largest freight rail infrastructure project in Australia, and one of the most significant infrastructure projects in the world. It will complete the 'spine' of the national freight network transforming the freight rail system between Melbourne and Brisbane via regional Victoria, New South Wales and Queensland better connecting farms and cities to markets and providing supply chain benefits and substantial cost savings for freight companies and producers.
Construction on Inland Rail commenced in 2018 building on significant progress made in 2017, including early supporting works. The Programme is slated to deliver improved productivity, shorter transit times, improved network efficiency, reliability and safety, sustainability benefits, and reduced lifecycle costs. It will create up to 16,000 jobs during construction, and 700 ongoing jobs once operational in 2024-25.
---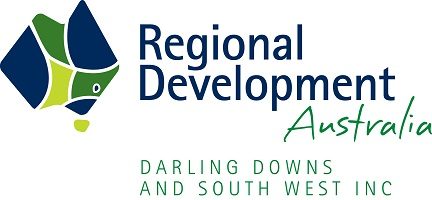 RDA Darling Downs and South West
Regional Supporter - Toowoomba
Darling Downs and South West is one of the largest RDA regions in the network and covers 23% of Queensland. The vast distances between population centres and the diversity of contributors to the economic well-being of the region, creates significant challenges for any organisation charged with effectively advocating for priority government funding that will have the most benefit to the region strategically. Nevertheless, the Committee of RDA DDSW is committed to playing a pivotal role in ensuring the long-term sustainability of this region.
It is our aim to consult widely and regularly with communities, business, non-profit organisations and all levels of government to articulate local priorities, identify and align resources, engage stakeholders and promote solutions that support the economic growth and development of our single regional community.
Visit the RDA Darling Downs and South West website
---