2020 QUEENSLAND STATE ELECTION
The Queensland state election will be held on 31 October 2020 and is historic for a number of reasons:
firstly, because it is the first election to be governed by the Constitution (Fixed Term Parliament) Amendment Act 2015 where all future elections will be every four years on the final Saturday in Octobe
secondly, because the State's recovery from the COVID-19 economic depression will be contingent on the actions of the next state government
In the run-up to the election, Queensland Major Contractors Association and The Australian Constructors Association have developed a range of priorities that Queensland Labor, The Liberal National Party, Katter's Australia Party and The Greens should consider and commit to, in order to sustain a critical industry across the next Parliamentary term and beyond.
The next Queensland Government will govern in an unprecedented time, facing economic and health challenges like never before and therefore has a pivotal role to play in the stimulation of the State's economy.
In addition, the Government will be required to provide policy settings that create confidence in Queensland and ensure that the State is an attractive destination for investment in key sectors such as resources, renewables, energy generation, rail and transport infrastructure.
We believe that there are three main areas that are critical to the future of Queensland, as we recover from this economic downturn and where the construction industry plays a critical role.
---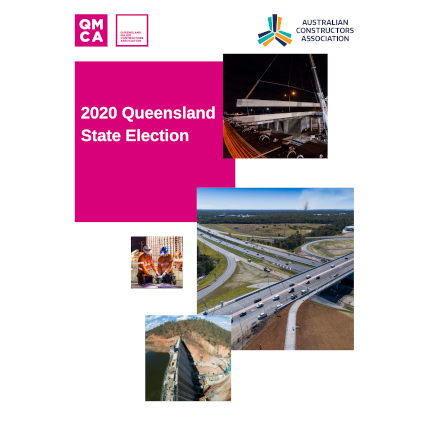 2020 Queensland State Election Report
Download a copy of the 2020 Queensland State Election Report – CLICK HERE
---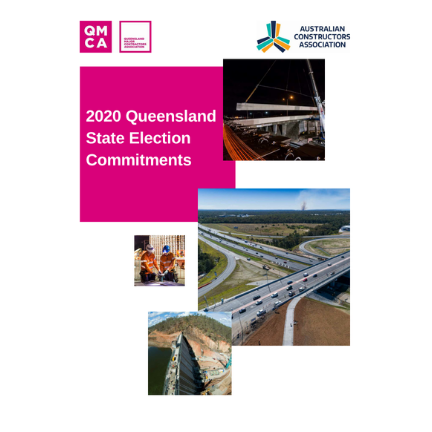 Queensland State Election Report - With Commitments
Download a copy of the 2020 Queensland State Election Report With Party Commitments – CLICK HERE
---
Queensland State Election Update
Download a copy of the 2020 Queensland State Election Update – CLICK HERE
---
Key Priorities
Sustainability of the industry:
A pipeline of committed projects that enables industry to invest with confidence. The industry needs to ensure an ongoing pipeline that sustains employment and enables the industry to invest in employing and training people and maintaining operations in Queensland. It has been a challenging last decade and looking forward it appears it may be again.
Policy framework under which the industry operates (industrial relations, safety). Seeking to establish a balanced IR framework under which industry and all stakeholders can operate with certainty from an employment perspective, and businesses are able to make strategic decisions for themselves without outside influence or direction from Government. This includes issues such as minimum conditions for employment
---
Economic infrastructure that unlocks economic value and investment. The need to ensure that there is appropriate planning, investment and commitment to deliver economic infrastructure projects and programs that deliver long-lasting economic outcomes; enabling the private sector to further invest in development, infrastructure and jobs.
Key projects are:
State Building:

Water Infrastructure (storage and pipleines) for long term water security and baseload hydro energy
Enabling infrastructure for renewable energy projects
Fast rail connecting the major centres in SEQ with Brisbane including Toowoomba, Gold Coast and Sunshine Coast

Rail:

Inland Rail including completing the missing link between Acacia Ridge and the Port of Brisbane
Mt Isa Rail line including resolution of efficient rail to and through the Port of Townsville (including the Eastern Access Rail Line)
Intermodal facilities and other rail upgrades on the back of Inland Rail, expanding the area of influence of the investment

Road:

Bruce Highway – a continuation of the upgrade and safety program
North-South Arterial linking outer growth and industrial areas with the Gateway Motorway and relieving pressure off the Bruce Highway
Western bypass of Brisbane – enabling freight to bypass the urban areas and linking major industrial areas

Energy, Water & Resources:

Transmission lines to enable renewable energy precincts to develop and industry to grow
Water storage- completion of the dam safety upgrade program before 2028 and consideration of linking of existing water assets by pipelines
---
Urban infrastructure – Ongoing investment in urban infrastructure that will spur growth and economic activity in the cities and ensuring they can operate more efficiently.
Key projects:
Region Building:

SEQ City Deal – creating the investment focus for the future
SEQ Olympics infrastructure – delivering legacy infrastructure for the region

Rail:

Level crossing removal program to unlock urban opportunities and higher frequency rail services
Extension of the Gold Coast Light Rail to Gold Coast Airport and inland to link with the existing Citytrain network
Extension of the Brisbane Metro infrastructure and services to centres such as Chermside and Carindale
Cross River Rail – Stage 2. The next stages of Cross River Rail investment (North West Transport corridor, Springfield/Ipswich, commuter rail to Sunshine Coast)

Road:

Coomera Connector.
North West Transport corridor and linking with the inner ring road system.
Western road network resolution (Moggill Pocket Arterial, Goodna Bypass, Western Ipswich bypass)
---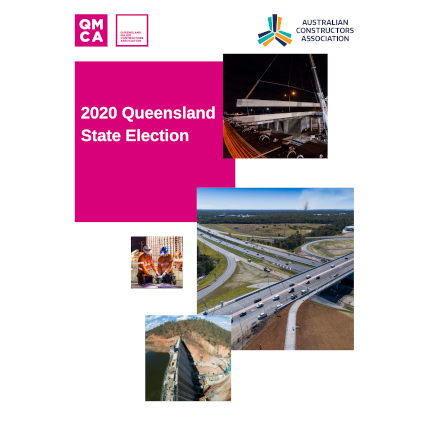 2020 Queensland State Election Report
Download a copy of the 2020 Queensland State Election Report – CLICK HERE
---
Election Commitments
As we move towards polling day, we will capture the commitments of each major party against our key priorities. From 31 October onwards, we will hold the next Queensland Government to account for their commitments to ensure that our sector remains a sustainable driver of economic growth and societal well-being.